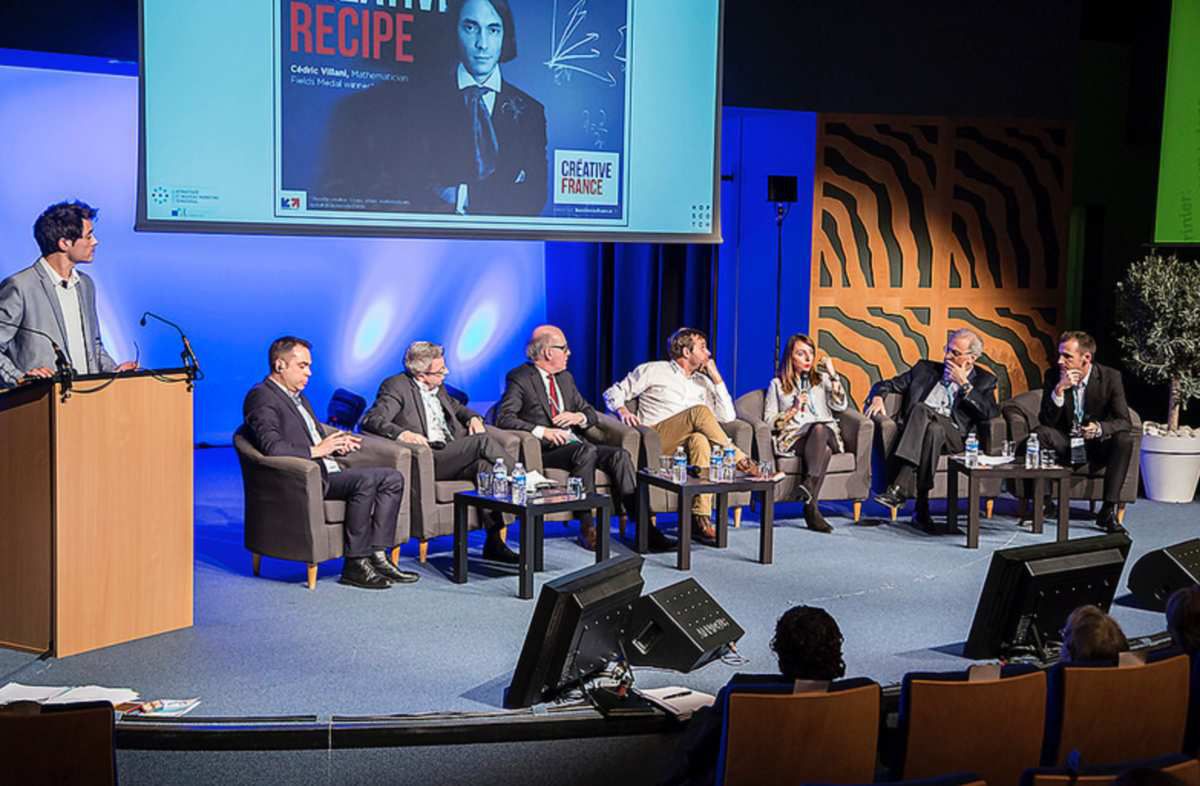 Last round table on the new models of place marketing (photo taken from https://www.flickr.com/photos/127046433@N07/25804838555/in/album-72157665897498656/)
After summig up some of the main ideas and cases debated during the Place Marketing Forum 2016, which took place from the 9th to 11th of October (see previous article), time has come to share some critical and constructive thoughts on regards to the conference format :
Why do place marketing researchers and practitioners need each other ? Reconcile further research and practice around place marketing still stands as one of the most problematic issues in the structuring of the discipline. Following the presentation of an explosive mixture of trends, innovative and efficient operations launched worldwide in the place marketing area, it was tricky to step back and introduce some conceptual and theoretical guidelines. The newly appointed director of the organizing Chair, Christophe Allaux, did attempt to question the scientific nature of marketing and especially place marketing, and Mihalis Kavaratzis (of the University of Leicester) also brought out some methodological tips on rethinking place branding. Yet, the conference overall showed a somehow unclear contribution of researchers side by side with practitioners in the debate, despite their visible presence in the various panels.
What about place-making and place story-telling ? The cases of Detroit, Barcelona or French urban regeneration projects in deprived neighborhoods, were timely occasions to address the topics of place-making and place story-telling, put into perspective with place branding and marketing. However, contrasting with the intense discussions around co-opetition, governance, digitization, sharing economy and customer relationship, too little was said on the importance of understanding and harnessing sense of place, place identity and history. Still, these notions, often referring to the « DNA of places », are key drivers of place uniqueness, belonging, attachment and development.
A French-centered conference with international input. The event needs a clearer positioning. While having all the ingredients to stand out as an international meeting, at least referring to its title, its ambition, best practices and speakers from various continents, the PMF still remains overwhelmingly francophone (which is not a problem in itself but needs to be clarified). Despite the simultaneous translation going on through the event, the animation and discussions were largely French-speaking. Mihalis Kavaratzis in his speech, pointed out this language barrier, not without a touch of sarcasm, as one of the reasons on French researchers and practitioners' inability to showcase worldwide, except maybe for Onlylyon, their indisputable know-how in place marketing.
The conference needs a new momentum. For a third edition, the almost identically repeated format of the conference (presentation of remarkable achievements, debates and awards) reached its limit : panels with more than five speakers tend to dilute debates with the risk of loosing sight with the main topic discussed. Dedicating more time to deepen some major issues through real workshop sessions should be further considered.
The uneven quality of main speakers. The cases shortlisted were awarded for iconic new ways of managing, promoting and enhancing places. Yet, the key strengths of these initiatives were not always made clear at the end of sometimes too monoteneous presentations.
Renewing emphasis on interaction. There was much talk about « building lasting relationships » during the conference. In this respect, the PMF16 managed well to gather a community of around 400 skilled and passionated place marketing professionals. However, overall interaction with the audience was relatively poor. It appears crucial in this type of conference, to set up a real-time interaction tool to engage dialogue with the audience in every debate and to avoid one-way communication (see the exemple of the City Nation Place conference). The management of breaks and networking opportunities, is another aspect that can still be significantly improved.
Be that as it may, the Place Marketing Forum is establishing itself as a conference not to be missed in the place marketing/branding area, at least in France. Provided it addesses its main flaws, it is likely to ramp up further thanks to an already well-functioning organisation. The decision to change the hosting city for the next edition is a good step towards impulsing a new momentum for the PMF.
You may not totally agree with this summary, other thoughts are welcome !
Link to the Place Marketing Forum.
David Aboulkheir
Chief editor of City Brand Explorer