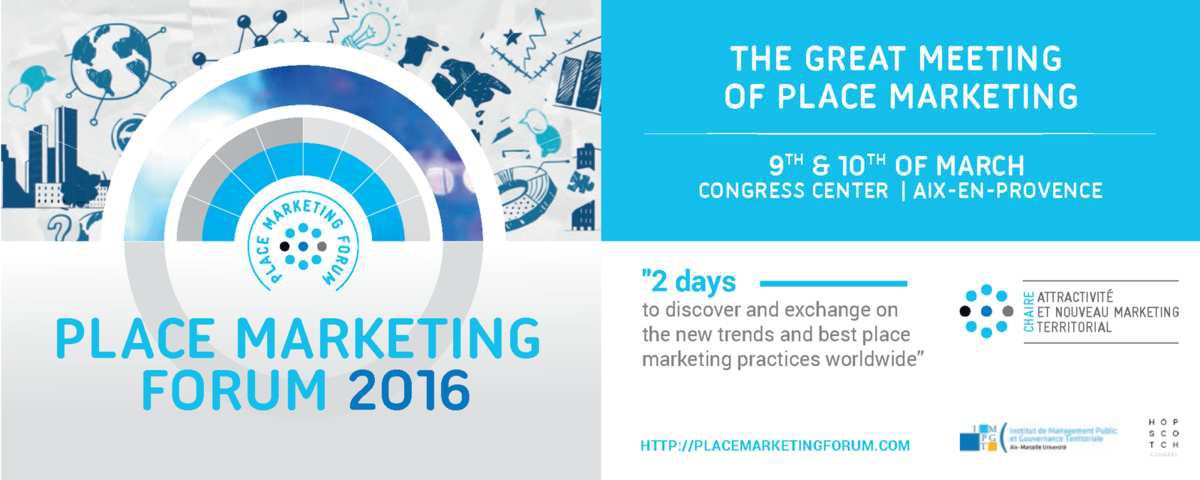 On the next 9th and 10th of March, I will be attending the Place Marketing Forum 2016, in Aix-en-Provence, France, event I had the opportunity to co-host in 2013 and 2014. Speaking to a French but also to an international audience (content translated), the forum is worth attending for any place marketing practitioner, researcher or simply enthusiast, for several reasons:
- The diversity of participants and the relevance of topics as well as task areas discussed ; the PMF stands for the (bi)-annual lighthouse event dedicated to place marketing in France, bringing together nearly 400 participants with the contribution of dozens of high-profile experts. Its program dares to cover with consistency, one of the most prevalent sectors of regional attractiveness such as economic and social development, tourism, culture, higher education or citizen participation. Task areas include : qualifying the place offer, designing virtuous communication and event ecosystems, digital marketing, place-making, experiential marketing, governance, place management or place branding. Though only city, province and regional scales are represented, lessons learned are likely to be relevant whatever the territory scale.
- The event also allows to draw up a much needed inventory, on place marketing research, trends and new models worldwide. It will do so, not only through the sound highlights provided by international guests of honor such as Juan Carlos Belloso (Barcelona Global), Mihalis Kavaratzis (author of the book "Rethinking Place Branding" ) or Lionel Flasseur (Director of the OnlyLyon program), but also through the showcasing of a range of outstanding initiatives, though not necessarily well-known, set up by pragmatic, innovative, risk-taker and visionary place stakeholders.
- The excellence of the cases presented, scrutinized and then debated in round tables :
The Seoul Sharing-city program which shows how Seoul, already considered for many "the world's most wired city", has undertaken to spread and implement on a large scale the principles of the sharing economy, to tackle the impeding challenges of quality of life, sustainable development and attractiveness.
Barcelona Global, the global and strategic marketing platform developed by Barcelona's stakeholders, ​​to ensure lasting regional attractiveness, wealth and influence.
The Picardy regional tourism committee determined to revolutionize institutional practices in tourism, through the implementation of a quality management system, experiential as well as personalized marketing, embodied in a place brand, Esprit de Picardie.
The Detroit Homecoming program, a case of endogenous place marketing that illustrates the way a declining city can reinvent itself and rise from its ashes, by leveraging together the senses of belonging, of initiative and innovation of its inhabitants.
The digital marketing strategy successfully implemented by a higher-education institution, the University of St. Joseph (Connecticut), to boost its brand recognition and lure new talents.
The MuseumsQuartier, an impressive art and cultural cluster within the heart of Vienna. The Austrian capital was recently ranked first among European cities in terms of quality of life (article).
The program Innova.To, led by the he city of Turin, aimed at encouraging its 10,000 municipal employees to become innovators, submitting their ideas to upgrade public services. This practice will give the opportunity to embrace from a different angle, the smart city issue.
123Subsidie.NL, a very effective business support, facilitator and funding system, targeting small and medium companies, and led by an alliance of three Dutch northern provinces.
The PMF 2016 is hosted by the Chaire Attractivité et Nouveau Marketing Territorial of Aix University.
All information is available on the website.
David Aboulkheir